Chin Surgery in Los Angeles, CA
Genioplasty (Chin Surgery)
Having a well-defined jawline is a most desirable characteristic among men and women and has been for centuries. From the chiseled sculptures of the Renaissance to the selfie of a modern-day social media influencer, the shape and position of the chin can contribute significantly to facial attractiveness and confidence.
A weak chin, protruding chin, asymmetric chin, or abnormally shaped chin can disrupt the appearance and harmony of a well-balanced face. Chin surgery (genioplasty) is a very popular procedure in modern aesthetic surgery that can correct misaligned or malformed chins and help create a stronger angle in men and a softer, more harmonious, and beautiful contour or shape in women.
If you have a particularly weak chin or a chin that protrudes abnormally, you may have a misalignment of the jaw that requires surgery in addition to correcting the chin's position.
How Is Chin Surgery Performed? Implant Vs. No Implant?
Some plastic surgeons offer their patients chin implants, but these can look fake, almost like an 'add on.' Some maxillo-facial surgeons will offer patients a chin surgery procedure where they cut the actual chin bone and physically move the chin itself with no foreign or prosthetic chin implant.
Should I choose a plastic surgeon or an oral and maxillo-facial surgeon to do my chin surgery?
Ideally, you should choose a talented surgeon that is double-board certified in both plastic surgery and maxillo-facial surgery since surgery of the chin is an art. Great surgeons are caring and exhibit finesse, skill, and a wonderful sense of aesthetics in their work. They have experience managing both, the bony part of the chin (maxillo-facial surgery) and the soft tissues (plastic surgery).
An intimate understanding and experience working with the underlying connective tissue are important when doing any surgery of the jaws or chin. The vascular anastomosis and nerve innervation must be considered in addition to the color, tonicity, texture, thickness, and drape of the skin to create a natural-looking, harmonious chin.
Jaw Surgery LA is equipped with a state-of-the-art imaging center that allows the surgeons to create a patient-specific anatomical reconstruction of your chin and face virtually in 3D. Patients and surgeons can visualize (with vivid accuracy) both the hard and soft tissues in 3D. The virtual image can then be manipulated, as prescribed, to help the patient and surgeon visualize the results prior to surgery. This helps clarify the preferences a patient may have prior to surgery. An incredibly accurate surgical template can then be made using 3D printers and proprietary surgical software. Surgeons at Jaw Surgery LA sterilize these templates and can take them into the OR room and attach them temporarily to the patient chin, as a guide, to help achieve the intended results.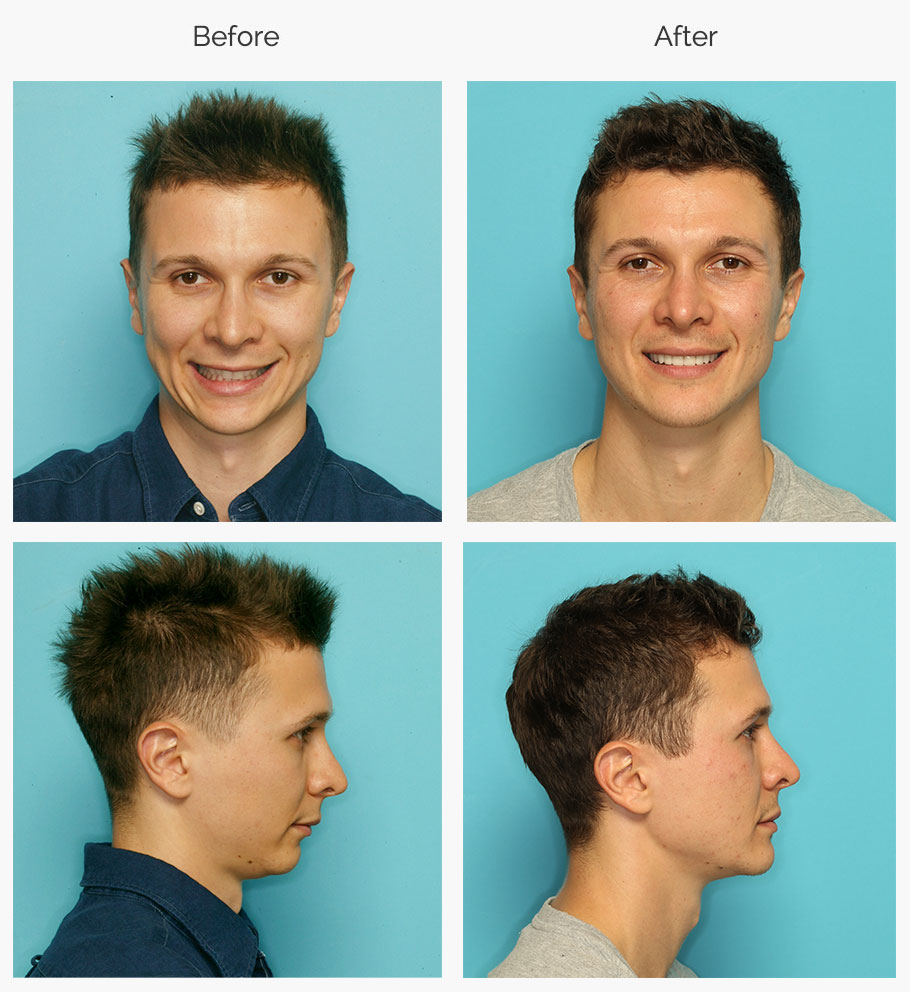 What kind of anesthesia is required for chin surgery (genioplasty)?
Chin surgery is performed with the general anesthesia for your comfort. This means that you will be completely asleep throughout the procedure.
Many surgeons performing chin surgery will administer the anesthesia themselves and contemporaneously perform the chin surgery. Although this is acceptable, the founder of Jaw Surgery LA and Face Center LA, Dr. Schendel (Professor Emeritus, Stanford Medical Center), advocated for always having a dedicated and experienced board-certified anesthesiologist administer the anesthesia.
Since Jaw Surgery Los Angeles has an AAAHC credentialed operating room, a board-certified anesthesiologist administers the anesthesia so that the dual-trained, double-board-certified maxillo-facial and plastic surgeon can devote his full attention to the subtlety of the surgery.
Are there any scars from chin surgery?
The incisions for chin surgery are preferable inside the mouth. There is no need to make incisions anywhere on the face for chin surgery, so there will be no visible scars. Healing inside the mouth does create tightness and minor scarring inside the lower lip, so patients will be given instructions and exercises after surgery to help reduce this feeling of tightness during recovery.
What Will My Chin Surgery Recovery Be Like?
Patients can expect to experience mild discomfort in the days and weeks following surgery, although individual response varies according to your health and positive mental attitude. The chin may feel swollen, bruised, and uncomfortably tight or stiff at first. This typically subsides after a couple of weeks, though some swelling may persist for a few months. Pain medication and antibiotics are prescribed immediately following the chin surgery.
FAQs About Chin Surgery
Should I Combine my Jaw or Chin Surgery With Other Surgery?

Chin surgery can also be performed concurrently with other surgeries such as jaw surgery, wisdom teeth (third molar teeth) extraction, certain rhinoplasties (nose surgery), neck liposuction, and cheek augmentation. During your consultation, surgeons at Jaw Surgery LA and Face Center LA will meet with you to discuss, in great detail, your preferences and their recommendations.

How soon can I return to work after chin surgery?

The bruising and swelling caused by chin surgery typically take two weeks to subside. Most patients can return to work and non-strenuous activities within one to two weeks, depending on the nature of their job and activities.

Will I be required to follow a liquid diet during my chin surgery recovery?

You do not need to be on a liquid diet following chin surgery. Soft foods may be more comfortable initially based upon your personal preference.
Interested in Learning More?
If you are interested in learning more about genioplasty in Los Angeles, California, contact Jaw Surgery Los Angeles by calling (310) 361-3363 or by filling out our online contact form.
Patients in Los Angeles requesting information about a genioplasty (chin surgery ) may prefer to visit Jaw Surgery Los Angeles for an initial in-person consultation. Patients living within the USA or abroad may prefer to schedule an initial telephone or video telemedicine consultation.